If you are a night owl, you stayed up late to see the TV networks declare Donald J Trump the election winner.  Even if you turned off the TV early, you awoke to the phrase some hoped to hear but few honestly expected… President-Elect Trump. Regardless of your political leaning, all involved in immigration will acknowledge one thing:  we are in for a heck of a ride ahead.
Our office has already received several calls and emails, all wondering how the outcome will affect them, their families and their employees. It is still early in the game, and most of the information we can provide is an educated guess.  But we will attempt to break down what matters most to you. Grab a cup of coffee and perhaps a snack.. this may be long.
The New Face of the Federal Government:
While the electoral map seems to show a clear Republican swing, the make-up of Congress doesn't look all that different from its pre-election stamp.
In the Senate, the Democrats captured one additional seat, with 2 races still ongoing (and to be determined).  Without these 2 unknowns, the Senate is made of 45 Democrats, 1 Independent (who generally sides with the Dems), and 51 Republicans.  In the end, the Republicans retained control of the Senate.
On the House side, Democrats gained 7 seats, but the Republicans still hold a clear majority.  Therefore, the House is Republican controlled.
The key that everyone will be watching is the composition of Trump's cabinet, and assignment of jobs within a Trump White House.  For example:
Senator Jeff Sessions – the Republican from Alabama was one of Trump's first and most vocal supporters, and was also mentioned in Trump's speech on election night. Sessions is a vocal supporter of the Restrictionist movement, and could hold a key immigration-related position.
Rudy Giuliani – This former mayor and staunch Republican could hold a position as Attorney General in the new Trump Administration. As the Attorney General, he would hold direct power over immigration matters.
Kris Kobach – As the Secretary of State of Kansas, Mr. Kobach has held an early position within the Trump election train as an advisor on immigration issues. He proudly asserts that he aided Trump in the border wall plan. It is anticipated that he will hold a new position in the Trump administration.
Governor Chris Christie – the New Jersey governor has been a part of the Trump campaign for many months, and it is anticipated that he will rewarded for his loyalty by a new cabinet position. The good news is that Christie is more moderate in his stance on immigration, and favors a more realistic plan.  However, expect him to play a critical role as well.
I'm Just a Bill:
In the end, much of what impacts us on a daily basis in immigration is based on policy memorandum, regulations, and executive actions.  Legislative changes require approval of bills by both parts of Congress, and as we know from talk of Comprehensive Immigration Reform, can take years to see movements, if any.  So let's break down the reality of these programs:
Policy Memorandum – USCIS and immigration practice often runs on policy memoranda. In short, these are a sort of strongly-worded opinion letters on how USCIS, ICE and CBP officer should adjudicate cases.  The policy memoranda (or PMs for short) are created and disseminated by the various officials within the Department of Homeland Security.  They usually begin at the top down – from the Attorney General's office – and are issued by the heads of the Department. An example is PM 602-0095, which affects our adoption-based cases.  The make-up of the cabinet and members of the Trump White House will almost certainly affect PMs, both current and future.  In other words, some PMs created under the Obama administration may be revoked, and new more-conservative ones put in place.  This is a wait and see game.
Regulations – Under the Administrative Procedures Act, all formalized regulations must be published in the Federal Register, opened for public comments, run through the OMB for financial consideration, and finalized for rule making. An example is the I-601A provisional waiver program.  Regulations cannot change overnight; they take a specified amount of time to work through the system.
Executive Actions/ Orders – these are the most volatile of the programs, and are created with the "signing of a pen." A perfect example of an Executive Order is Obama's DACA program, providing a temporary respite from removal for teens and young adults, as well as employment authorization.  These are the most at risk for immediate change – both revocation of those from the prior president, and creation of novel ones under the new Commander in Chief.
Again, legislation – permanent changes to the Immigration and Nationality Act – requires an act of Congress.. literally.  Ironically, with the House and Senate controlled by the Republicans, and the new President also under that same party, we may face our best chance of legislative change in well over a decade.  We fear, however, that those changes will be in favor of a restictionist platform that enhances penalties, limits benefits, and lessens the options in an already stressed immigration system.
OK, So What Does This Mean For Me?
If you are still with us – and we thank you for that – your next question is clear:  what does all this mean for you, your family, and your employees?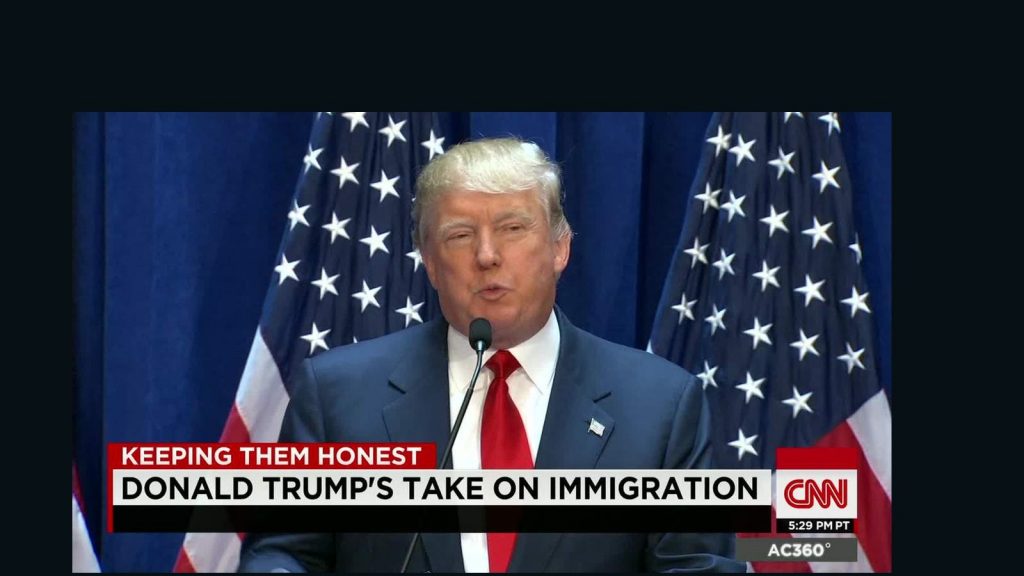 DACA – Perhaps the most certain change will come in the revocation of the executive order that created DACA, or Deferred Action for Childhood Arrivals.  Executive order and actions are created and withdrawn at will, and Trump has vowed to almost immediately terminate the program.
If your DACA expires in the early part of 2017, we would advise against renewing. There is little chance that the approval will come before January 20, 2016, and the pending cases are the most likely to be terminated. This also applies to those that are considering DACA; we would advise against applying at this time.
If you have currently have DACA, we will carefully monitor what happens after January 20, 2017. If the program is dismantled, it is unknown if those with it can keep their benefits through expiration, or if all cards will be recalled, as USCIS did following the DAPA litigation.  Please stay in touch with our office if this applies to you.
We are also unsure if the data you provided in your DACA applications, including addresses and phone numbers, will be collected and used for detentions and removals.
Removal – The Obama Administration developed prioritized removal approaches, with a focus on criminal aliens and repeat offenders.  Policies like prosecutorial discretion and administrative closure became a normal part of our practice, reducing the number of individuals who were in proceedings.  We anticipate that a new Trump administration will have one major characteristic:  an increase in removals in the form of new actions, and elimination of the current policies.
Trump has also vowed to increase mandatory detention of all arriving aliens, and apprehend those that have overstayed their lawful entries.  Therefore, we may see an uptick in detention and bond cases.
The good news for our clients is that Milner and Markee LLP has been involved in removal and detention cases for many, many years.  Both attorneys are Certified Specialists in Immigration and Nationality Law (under the State Bar of California), and are skilled litigators.  We will continue to work with the American Immigration Council as well on strategies for removal protection and defense.
Regardless, we urge you to carry our card in your wallet, refuse to sign an offer of voluntary departure until a legal analysis can be completed, and contact our office immediately if you or a loved one is detained.
Employment-Based Immigration – Trump's 10-point policy memo on his website focuses on returning US jobs to US workers.  He does not provide any specifics, but leaders in AILA (American Immigration Lawyers Association) have noted the following possibilities:
Trump has vowed to suspend NAFTA. While the focus is on international trade deals that have reportedly damaged the American workforce, the treaty contains the TN visa category for professionals from Mexico and Canada.  If Trump suspends all of NAFTA, the TN category may also be temporarily halted. Our office would urge any employers who have considered offering a TN position to do so well before the January 20th
Trump's talking points and advisors, especially those like Senator Chuck Grassley of Iowa, have mentioned perceived flaws in the H-1B professional program. Numerically limited to 65,000 per year, we are unlikely to see an increase in allocated numbers, absent compromised legislative reform. Some AILA members wonder if we will see any changes to the FY2018 H-1B filing season, which opens on April 1, 2017.
Of course, those employers that rely on DACA recipients will also see their workforce disappear. There is talk of a centralization of employers of DACA holders, with the goal of allowing a gradual let down in the DACA grants (authorized employment through individual expirations, rather than a singular cessation across the board), to permit employers to find and replace DACA employees.
Family-Based Immigration – Interestingly, there is little talk at all in the Trump corner about changing – positively or negatively – family-based immigration.  Unification of families has always been the cornerstone of our immigration system.  There are no yet-pronounced changes to the categories of family-based immigration (immediate relative through 4th preference), or hints that adjudications may change.
AILA leaders feel that despite the anti-gay rhetoric of some Trump supporters, very little will change for LGBT immigrants; indeed the landmark Supreme Court case on DOMA extended immigration benefits to all same-sex partners, and it would take a new Supreme Court ruling to undue this advancement.
Finally, we may see a modification of Temporary Protected Status (TPS) benefits, including a failure to renew for certain countries.
So What Now?
In the end, all of this is just supposition and educated guessing, aimed to ease some fears that naturally come from uncertainty. The most important take home message is simple:  Milner and Markee LLP is dedicated – 100%, to our cores – to fighting for you and your families.
We are highly skilled in removal defense, federal litigation and administrative issues, and we will remain completely up-to-date on changes as they occur. Please contact us at any time for a consultation or assistance.